You need a conversion-focused eCommerce store that can boost your revenue and help you meet your business goals. In today's market, it is important for consumers and merchants to buy and sell quickly. With eCommerce, this is achieved with just a few simple clicks on the web.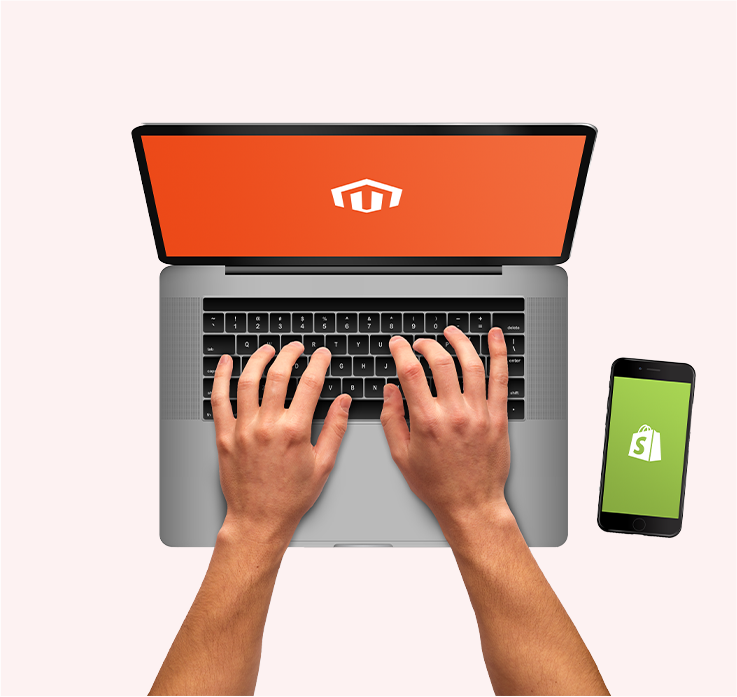 Magento eCommerce
Industry experts recognize Magento 2 as the optimal ecommerce platform, and for good reason. Magento Community is an open-source software that acts as a solid framework of functionality for eCommerce. You can manage customers, orders, your catalog, and your sites content all from the easy to use admin panel.
There are other "free" options out there, however we have clients come to us after having spent an enormous amount of time and money wrestling with these so-called solutions. Most people come to us very frustrated that they cannot do with their site what they want to do. When you choose Logic Web Media to custom build your Magento eCommerce store, we can custom develop all the features you need to sell online.
Positioned at the vanguard of the ecommerce world, Magento is ideal for small and large stores alike.
Shopify Stores
Shopify's open-sourced content management system makes website template changes, product uploads, and other updates simple. Shopify's mobile-friendly platform ensures that your eCommerce store is also easy to use for mobile buyers.
Additionally, Shopify is very user-friendly--even for the non-tech savvy. Depending on the amount of products you want to sell and the type of product, Shopify may be the right choice for you.
There are a wide range of themes and templates for you to choose from. For the business owner that does not need a ton of customization or additional features for their eCommerce store, then we suggest trying out Shopify as you platform.
WooCommerce
Based in the immensely popular WordPress platform, WooCommerce sites carry tremendous potential to have a high SEO value. These text-heavy websites are also ideal for creating blog content, which functions well as both a selling tool for customers and an SEO boost. WooCommerce is also an open-source system, meaning that you can draw from existing user-created elements.
While not as powerful as our preferred Magento, it has many helpful features. Clients use its order tracking, delivery status, inventory management, and much more with ease. Furthermore, it is easier to customize and add custom development features than with a platform such as Shopify.
Custom Features
Inevitably, we are going to be faced with eCommerce needs that cannot be accomplished with an out-of-the-box solution. Therefore, it's important to hire a web development company that knows what they're doing.
Magento software is complex. Shopify can be limited on features. And WooCommerce users have a bad habit of adding plugins upon plugins to make things work. When you choose Logic Web Media, we can custom develop your website so that you can sell effectively online.
What are some examples of custom features? For instance, some products need to be built before the user can check out. Or, some clients need wholesale options and clients. Whatever your eCommerce needs are, we can make it happen for you!
Our eCommerce Website Design Process
Amazon might make it look easy, but building an eCommerce store requires a focused approach, and attention to detail.

1. Competitor Research
We'll learn all about your business, industry, brand, and what you're setting out to accomplish with your website. We'll check out some of your competitors, and figure out which tactics work, and which don't.

2. Conversion Based Design
Your website homepage makes the first impression on prospective customers. Our team of designers will incorporate your logo, colors and any other brand elements to create a design and style that fits your business.

3. eCommerce Development
Once the design is approved, we will begin custom developing your website. We develop all websites using the latest technologies so that your website not only looks great, but works great.

4. Review & Launch
Your website homepage makes the first impression on prospective customers. Our team of designers will incorporate your logo, colors and any other brand elements to create a design and style that fits your business.
What You'll Get with Our eCommerce Services
As a versatile team of developers, designers, conversion specialists and copywriters, we can craft the eCommerce store that your business needs to dominate sales for the long haul.
Streamlined & Secure Buying Process
Your eCommerce store should provide a top notch customer experience. This includes a streamlined buying process and secure checkout. Poor customer experience can ruin a business. On the other hand, retaining your customers through a quality eCommerce store can lead to future business growth.
36%
Increase in conversion rate if you have a good cart and checkout design
Strong Brand Presence
An quality eCommerce store provides you with a strong brand presence online. Shoppers will Google what they are looking for, and when they find your store you are more likely to get the sale. Quality information, images, and a good mobile responsive eCommerce site are all aspects contributing to your brand presence. When you provide shoppers with easy access to detailed information, you are seen as a trusted source. Furthermore, being able to research a product online is one of the key reasons people will shop online.
81%
Consumers conducting online research before making a purchase online
Scalable CMS & Web Store
With more and more people shopping online, you need a website that can grow with demand. Your web store-and web development company-needs to adapt to the ever-changing eCommerce landscape.
Furthermore, your eCommerce platform should be able to scale with the growth of your business. Whether you are just starting out with selling online or have been already, your eCommerce store should be able to grow with you.
2.14 Billion
Global digital buyers in 2021
27.2%
Of the world's population is shopping online
Custom Solutions Built for your Business
Regardless of your eCommerce needs, we can create the perfect web store for you. You may be overwhelmed with platform and plugin options, but with Logic Web Media we will bring the solution to you.
Being slow to capitalize on eCommerce sales will leave your business left in the dust.
Over One Third
Of American businesses do not have a website